Sadly summer is long gone, but that doesn't mean we should stop using our hair masks. Hair can often be neglected in the colder months; it's easy to think that with the cooler weather and lower humidity, hair won't become so damaged, but icy winds and dropping temperatures can affect your hair just as much, stripping them of their glossy former selves and turning them into scraggly ends.

Have you seen the new Moroccanoil Smooth Collection?

A hair mask has the ability to deeply condition and nourish dry, damaged hair, nursing it back to life almost instantly. They're so easy to use; simply apply all over hair in the shower and let sit for at least 5 minutes or more, depending on the suggested time. Often people forget just how much of a difference a hair mask can make to their hair. And, you don't need to use it every single day, just incorporate it into your haircare routine once a week – or more depending on how in need your strands are – and you'll notice a difference in no time!
Struggling with seriously unruly, frizzy hair? Try co-washing.
So, fear not; there's never been a better time to give your parched tresses some much-needed TLC. We've hand picked the best, most conditioning hair treatments, to help bring your lacklustre locks back to life.
Use coconut oil, for an all-natural frizz tamer.
Click or tap to zoom into this image
Back Into the Roots, £16.08, Grow Gorgeous
If the winter's gotten the best of you and your hair's looking a little limp, give it the boost it needs with this scalp masque. Simply massage it into your roots and leave it on for ten minutes - the blend of burdock root, hyaluronic acid and vitamins will do the rest of the work.
Buy
Click or tap to zoom into this image
Living Proof Restore Mask Treatment, £35
This intensive mask is the perfect remedy for dry, over processed hair. It helps reduce breakage over time leaving the hair stronger and shinier. Use once a week and leave in for a minimum of 5 minutes, for really damaged hair leave on for 10 and warp in a warm towel.
Buy
Click or tap to zoom into this image
Phyto Phytokeratine Extreme Hair Mask, £36
Developed for dry or brittle hair, the Phytokeratine Extreme Hair Mask from Phyto effectively repairs and replenishes damaged locks so you can experience healthy-looking, radiant and stronger strands. It contains botanical keratin, an active ingredient that penetrates the hair's surface to mimic natural keratin and replace lost amino acids. It may be pricey, but we can ensure you that it's worth every penny - silky smoothy hair is yours!
Buy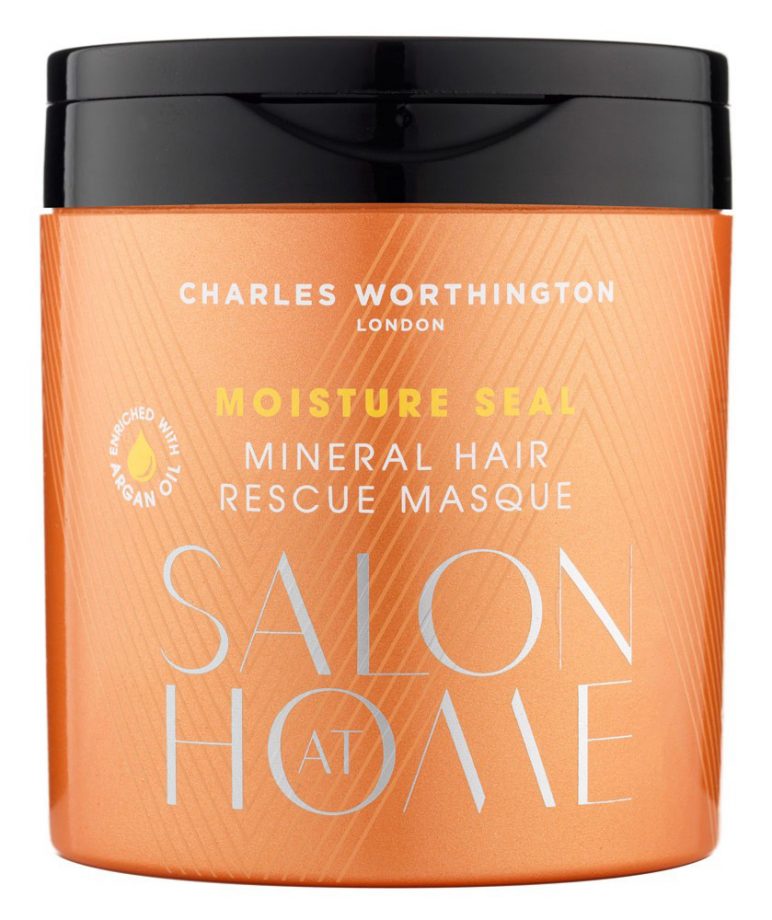 Click or tap to zoom into this image
Charles Worthington Moisture Seal Mineral Hair Rescue Masque, £5.99
Treat thirsty hair with this Charles Worthington masque. It's enriched with argan oil - which we all know is the wonder ingredient behind super silky hair - and smells like a dream. The masque penetrates the hair, giving it some much-needed moisture from root to tip, leaving it feeling like you're just back from a trip to the salon. Not bad for under a tenner!
Buy
Click or tap to zoom into this image
Beauty Works Pearl Nourishing Argan Oil Mask, £2.99
A firm favourite on the beauty desk, this hair mask is loaded with softening argan oil, meaning it'll nourish even the most frazzled locks back to health. The rich and nourishing formula gets to work in just 5 mins, soothing and sealing damaged, broken strands, so you can kiss goodbye to split ends and get a major gloss boost - yay!
Buy
Click or tap to zoom into this image
Moroccan Oil Restorative Hair Mask, £31.85
Loved by beauty insiders and celebs alike, the entire Moroccan Oil range is enriched with mega moisturising Argan Oil, but when your locks are looking particularly parched this is your guy. Rich in vitamins it's perfect if you've been a little heavy handed with the heat/bleach, just slather on and leave to penetrate for around 10 minutes, to see an instant improvement in condition.
Buy
Click or tap to zoom into this image
Salon Science Cellutensive Masque PhytoCellTec Swiss Apple, £12.67
Meet the ultimate anti-ager for your hair! This super-smart mask contains advanced plant stem cells that actually help repair damaged, or ageing hair. With proteins to strengthen weak strands leaving your locks feeling thicker and youthful in no time - obsessed!
Buy
Click or tap to zoom into this image
Aveda Damage Remedy Intensive Restructuring Treatment, £29.50
Boasting an all natural ingredient list, Aveda's intensive weekly treatment uses hair loving plant oils and quinoa proteins to strengthen, repair and smooth the hairs surface, restoring silkiness and manageability to hair that's been weakened by chemical processes and environmental exposure - we can't get enough!
Buy
Click or tap to zoom into this image
Macadamia Natural Oil Deep Repair Masque, £26.05
No wonder this is Kate Bosworth's go-to deep conditioning masque, we're also totally obsessed with the smell and never ending benefits of this wonder buy. The perfect pick me up for lifeless locks, if your hair is thick and you struggle with frizz you will be hooked after one use! It won't leave your hair greasy and helps to detangle, fight frizz and reduce drying time by 50% - what more could a girl want?
Buy
Click or tap to zoom into this image
This is an image
10
of
12
Kerastase Nutritive Nectar Thermique, £17.40
Healthy hair is not just about reversing damage; it has a lot to do with preventing it. Opt for a heat-protective cream like Nutritive Nectar Thermique, and apply in sections prior to heat styling, paying extra attention to particularly parched areas. This will create a protective shield over the hair, helping to lock in moisture and nipping future damage in the bud.
Buy
Click or tap to zoom into this image
This is an image
11
of
12
Gielly Green Repair Mask, £34
This product is pricey, but it's revitalising powers are ah-mazing. The ultra nourishing mask will bring your hair back to life!
Buy
Click or tap to zoom into this image
This is an image
12
of
12
Redken Heatcure Packettes, £25
Redken's unique self-heating packettes help to bring our barnets back to life and erase up to one year of hair surface damage when all 4 satchets are used. We are sold.